Lindholmen 4
This co-working space, located in Lindholmen in Gothenburg, Sweden, has been in development since 2006 as the project '1:1 A sketch' (see below). It's morphed through various manifestations of how a working and living space can be combined. Today, the studio at Lindholmsvägen 4 houses a handful of office spaces for creatives, as well as a kitchen, bathroom, workshop, and four sleeping cells for late nights or for when colleagues come to visit.
Project History
Lat Lindholmen samt 1:1
[pdf] in English
1:1 En skiss
[pdf] på svenska
The project "1:1 A sketch" began in 2006 with a group of people with experience from a variety of collective forms of living, most of them with different types of creative occupations. They all had similar ideas, and felt a need to find a new form of joint work- place and living space. They rented an industrial property in the industrial area Ringön in Gothenburg and started making it into a collective working and living space. The group had the idea to use as little of the space as possible for personal living, and as much as possible as common working space. They built small sleeping cabins and slept in them for a year.
A discussion on how to build a collective, which was both a common workplace and a common housing started. Almost everyone involved had some kind of creative job which could be carried out wholly or partly at home. A key aspect was that the members in the group defined themselves greatly with their professional work.
They wanted to be able to work on their projects and assignments at any time, because it was what felt was fun and relevant in their lives at that time. Their private lives were closely connected to their professional lives.
The group felt that much of the problem had to do with the physical space. They hoped to be able to provide an environment with inspiration and ideas and another approach to working and living. By changing the space to better promote the work and the social context, they thought they could be more creative in their projects. They also thought that increased productivity and progress of their work, in a functioning social context, would make them happier.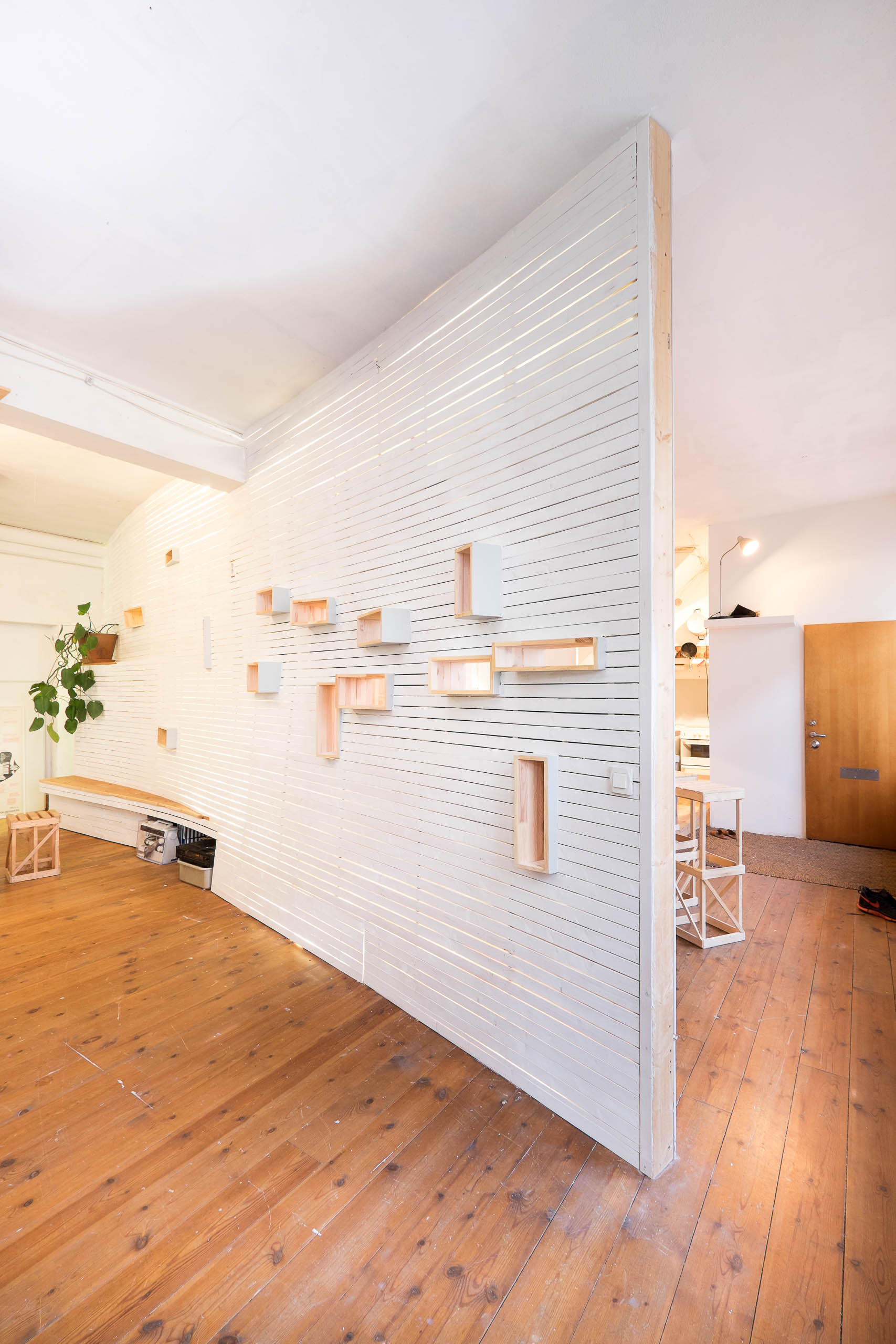 Their goal was to construct a situation that helped them in their work, from startup to completion. To build an environment where there was minimal resistance to start working. By surrounding themselves with friends who could provide feedback on one's work or propose a break when it was needed, they could create a kind of positive "supervision" and a motivating environment. Another crucial aspect about living and working in the same place was to avoid having to commute to work.

The group came up with a concept that summed up their ideas: Allowing the workplace and housing to be located in the same place. The creative work is the norm for the organization of the collective. Leisure and social life subordinated to the work, but still fits in the same arena. You take your leisure time when you need it. The first phase of the project was built on an industrial plot in Backa, Gothenburg. But the area was difficult to reach by public transport and it was an area that was completely deserted in the evenings and weekends.

LAT felt that they needed an area with more life and the second phase of the project has been built up in a house on Lindholmen, Gothenburg which has better public transport and is a more vivid neighborhood with both housing and work places. In phase two the group brought with them the experience from the first phase. They started discussing their needs and made a number of full scale prototypes before deciding on how the apartment should look. One of the things they had learned from the first phase was that coziness and aesthetics were much more important than they had previously thought.

The apartment has a minimal entrance hall in connection with the kitchen and the big working studio that makes up most of the space. Most of the apartment is visible already from here. The current apartment is 115 sq meters. The sleeping cabins are stacked on top of each other to save space and are situated between the kitchen and the working studio. Soundproofed cells for sleeping was also a new feature in phase two which meant that the members of the group did not have to adjust their circadian rhythm to each other. The house has four sleeping cabins, each with ventilation and a window through which you can see what happens in the rest of the apartment. Each cabin is between 120-160 cm high and has a mattress and a shelf for personal things. The measurements of the cabins are made in order to be able to crouch inside them. You are not able to see all corners of the cabin from one place which makes the room seem bigger. On top of the cabins small shelves are created where you can sit and work overlooking the working studio. One of the cabins was used as a small hotel room called Creators Inn, where artists, musicians and other people with creative occupations can stay for free for a night or sometimes for weeks.